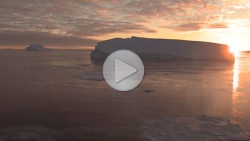 NARRATOR
It's a wild day for the – Isla Eden - deep in the Southern Ocean. It's fishing for Toothfish.
The day's catch is sampled, weighed and processed. The collected data is then sent through to Hobart, Tasmania, to the office of The Commission for the Conservation of Antarctic Marine Resource or CCAMLR.
Here the Isla Eden's catch is fed into CCAMLR's extensive database.
The CCAMLR story is a remarkable one. It's a co-operative venture that's brought together scientists and fishing communities across the world to look after one of the last major marine food sources on the planet - in the Antarctic waters. To understand how this adventure began, let's step back a moment.
For more than 200 years largely unregulated whaling, sealing and fishing has taken place in Antarctic waters. This was sustainable for as long as the ships and their means of harvesting were small scale.
ANDREW WRIGHT VOICEOVER
Things changed with the rapid rise in ship numbers and the upscaling of their machinery. A depletion of some marine species occurred; targeted fish stocks plunged.
In the late 1970's concerned nations came together to discuss conservation of Antarctic marine resources. This group saw the need for an international organisation to manage the Antarctic marine ecosystem and the fishing industries operating within it. It led to the establishment of CCAMLR in 1982 to do just this.
KEITH REID VOICEOVER
CCAMLR's extensive data base, which contains data from the fishery and ecosystem monitoring, and the science that's created from that data, underpins all of the Commission's policies conserving Antarctic marine life. This policy is all implemented through consensus between the 25 Members of the Commission.
NARRATOR
CCAMLR has to balance two - often opposing - needs. On one hand the need to fish, to feed people, on the other the need to preserve ecosystems and conserve marine resources for future generations.
DAVID RAMM VOICEOVER
CCAMLR determines what levels of fishing various ecosystems can tolerate and still exist into the future. We set catch limits on all fisheries in Antarctic waters and some areas are closed to fishing.
NARRATOR
A major priority for the Commission is the management of the Krill fishery. Krill is the largest underexploited marine resource on the planet and presents us with significant management challenges – and with opportunities. If we can get this right, krill can become the base for a sustainable global food source into the future.
SARAH LENEL VOICEOVER
I often think of the vessels and their crew out there, far away on the high seas of the Southern Ocean. It is a great experience to support them and their difficult work, so far away. We monitor the compliance with CCAMLR's conservation measures of all vessels operating in Antarctic waters and have seen very positive efforts, by vessels, to cooperate in this work.
It's great to see the science work with fishers to improve fishing practices, and for them and us to see the long-term benefits, both financially and ecologically.
NARRATOR
With its member stakeholders, CCAMLR has created guidelines to actively change fishing practice to avoid ecosystem damage – such as seabird mortality. Through these conservation measures we've significantly lowered seabird deaths from fishing practice, using advanced fishing techniques like 'weighted lines' and 'specialised hooks'.
What's ahead? Our great challenge is 'Climate change'. It will be a radical and variable influence far into the future. Effectively managing change will be crucial to securing this significant global food resource from Antarctic waters. All of the resources of CCAMLR will be required to successfully address these challenges.
END